Review Article on Urothelial Carcinoma
Neoadjuvant chemotherapy for upper tract urothelial carcinoma
Introduction
Upper tract urothelial carcinoma (UTUC) is a very uncommon disease that occupies for <5% of all urothelial cancers (1). More than 60% of patients with UTUC have invasion at diagnosis, whereas only 20% of patients with UC of the bladder (UCB) have invasion at diagnosis (2). Invasive UTUC has poor prognosis, and as the T stage increases, the 5-year survival rate decreases; the median survival of patients with T4 disease is about 6 months (3,4). Radical nephroureterectomy (RNU) with bladder cuff removal is a treatment of choice that can potentially UTUC in patients with normal contralateral kidneys, even if conservative treatment has a similar survival rate in patients with small and low-grade lesions or contraindications to radical surgery (4-6). However, in patients with locally advanced UTUC who are treated with RNU only, the recurrence rate is high (7). Therefore, perioperative chemotherapy may reduce the high systemic recurrence rate (8).
UTUC tumors are relatively sensitive to chemotherapy (9). Neoadjuvant chemotherapy (NAC) for UTUC may successfully eradicate micro-metastasis and result in pathological downstaging. Other reasons for NAC preference are cisplatin ineligibility after RNU and the chance of delivering higher doses of chemotherapy before surgery (3). Meanwhile, there is a potential risk of overtreatment without accurate pathological diagnosis. This may increase the perioperative morbidity owing to chemotherapy (10). However, there is increasing evidence that NAC plays an important role in the treatment of UTUC (11).
Several recently published studies have examined treatment trends for UTUC using nationwide big data (12,13). Browne et al. reported that the National Cancer Database displays a rise in chemotherapy for UTUC, chiefly in neoadjuvant settings, although NAC continues to comprise a small part of the whole chemotherapy (12). According to Cohen et al., the SEER-Medicare database shows that although NAC remains underused, its use has increased during the study period (13).
---
Proven evidence in bladder cancer
Chemotherapy for UTUC is primarily based on regimens that are used for UCB (14,15). NAC for advanced UCB is recommended based on level 1 evidence that demonstrated a beneficial effect on survival outcomes (16,17). The National Comprehensive Cancer Network guidelines recommend NAC, followed by radical cystectomy (category 1 recom­mendation) (18). In a Southwest Oncology Group randomized trial of 307 patients with muscle-invasive UCB, surgery alone was compared with three cycles of NAC (methotrexate, vinblastine, doxorubicin, and cisplatin) before surgery (19). The study reported that NAC increased the median survival among patients with locally advanced bladder cancer (77 vs. 46 months, P=0.06) and increased the likelihood of eliminating residual cancer (38% vs. 15%, P<0.001) with no obvious increment in treatment-related morbidity or mortality. In a meta-analysis of 11 trials with 3005 patients, cisplatin-based multi-agent NAC had a beneficial effect for the 5-year overall survival (OS) and disease-free survival (DFS) rates (5% and 9% absolute improvement, respectively) (14).
---
Deterioration of renal function after RNU
While RNU with bladder cuff removal is considered the standard treatment for advanced UTUC (4), an alternate approach may be needed due to patient comorbidities. Depending on tumor stage, grade, and patient factors, segmental ureterectomy or even endoscopic management of UTUC may be an option.
The majority of patients with UTUC who undergo surgery are not eligible for nephrotoxic cisplatin-based chemotherapy owing to a decrease in renal function after the surgical removal of the diseased kidney, ureter, and bladder cuff (10). Kaag et al. determined whether the ability to provide chemotherapy before RNU was affected by changes in kidney function after surgery (20). They reported that a significant decrease in renal function was observed after surgery, and these changes likely affected the eligibility for adjuvant cisplatin-based therapy. After RNU, renal function was significantly diminished, particularly in elderly patients. Several studies also reported a significant decrease in renal function after surgery (20-23). From this point of view, the neoadjuvant use of systemic chemotherapy should be strongly considered in advanced UTUC (20).
Experience with renal parenchymal tumors, which has proven that the nephron sparing surgery reduces the risk of developing chronic kidney disease, can likely apply to patients with UTUC (24,25). This concept is very important for patients with UTUC because nearly 25% of patients have evidence of serious chronic kidney disease at diagnosis (26).
---
Challenges with diagnosis and staging
Diagnosis and staging of UTUC are usually achieved by a combination of image modalities, urine cytology, endoscopic observation and biopsy of tumor. A CT urography is the most commonly used imaging modality and the most common abnormal finding is a filling defect (27,28). Endoscopic and/or percutaneous biopsies of UTUC for pathologic diagnosis, grading, and staging are technically difficult and often inaccurate. For this reason, it is difficult to develop an optimal treatment plan for UTUC patients.
There are several methods being developed to overcome the obstacles with clinical staging. One of them is the endoscopic luminal ultrasound, which can provide real-time evaluation of the depth of invasion of tumor. There are recent evidence that shows endoluminal ultrasound can improve the accuracy of clinical staging at the time of flexible ureteroscopy (29).
---
Pathologic downstaging
One of the primary rationales for NAC is the possibility of pathological downstaging of the tumor (30). In a phase 2 clinical trial at the MD Anderson Cancer Center, patients with locally advanced urothelial cancers were investigated for sequential NAC before surgery (31). In five patients with NAC followed RNU, three (60%) eventually achieved pathologic downstaging to ≤pT1N0 disease. However, owing to the small number of patients in this trial, care should be taken before drawing conclusions regarding the positive effect of NAC in pathologic downstaging of UTUC. Matin et al. also reported that there was significant downstaging in the NAC group and that NAC was related to a 14% complete remission rate (32). Margulis et al. showed that 5 of 41 patients with UTUC who received NAC before surgery had no pathologic evidence of cancer (4). Moreover, we reported that the NAC group was 4.76 times more likely to have pathological N phase 0 than the surgery-only group in a previous meta-analysis (7).
---
Improved oncological outcomes
Several meta-analyses suggest the efficacy of NAC in patients with UTUC (7,8,10,14,33). We summarize the characteristics and outcomes of previous meta-analyses in Table 1. The Advanced Bladder Cancer Meta-analysis Collaboration showed that a significant survival benefit associated with platinum-based chemotherapy for OS (HR 0.86, 95% CI: 0.77–0.95, P=0.003) and DFS (HR 0.78, 95% CI: 0.71–0.86, P<0.0001) (14). Leow et al. found a cancer-specific survival (CSS) benefit, i.e., a 59% decrease in the risk across two retrospective studies evaluating NAC (HR 0.41, 95% CI, 0.22–0.76, P=0.005) (10). Yang et al. conducted a network meta-analysis to evaluate the prognosis of patients with UTUC who received different treatments with RNU (33). They reported that compared with the control, NAC was associated with a significant improvement in CSS. Gregg et al. found that NAC exhibited an OS benefit of a 64% decrease in risk across two retrospective studies (HR 0.36, 95% CI: 0.19–0.69, P=0.002) (8). We evaluated the contemporary role of NAC for only patients with locally advanced UTUC (7) and showed that NAC increased the survival outcomes of locally advanced UTUC (OS, 57%; CSS, 59%; and PFS, 45%). Despite the results of these studies, the level of evidence is low because few studies were included, and all the included studies used retrospective designs.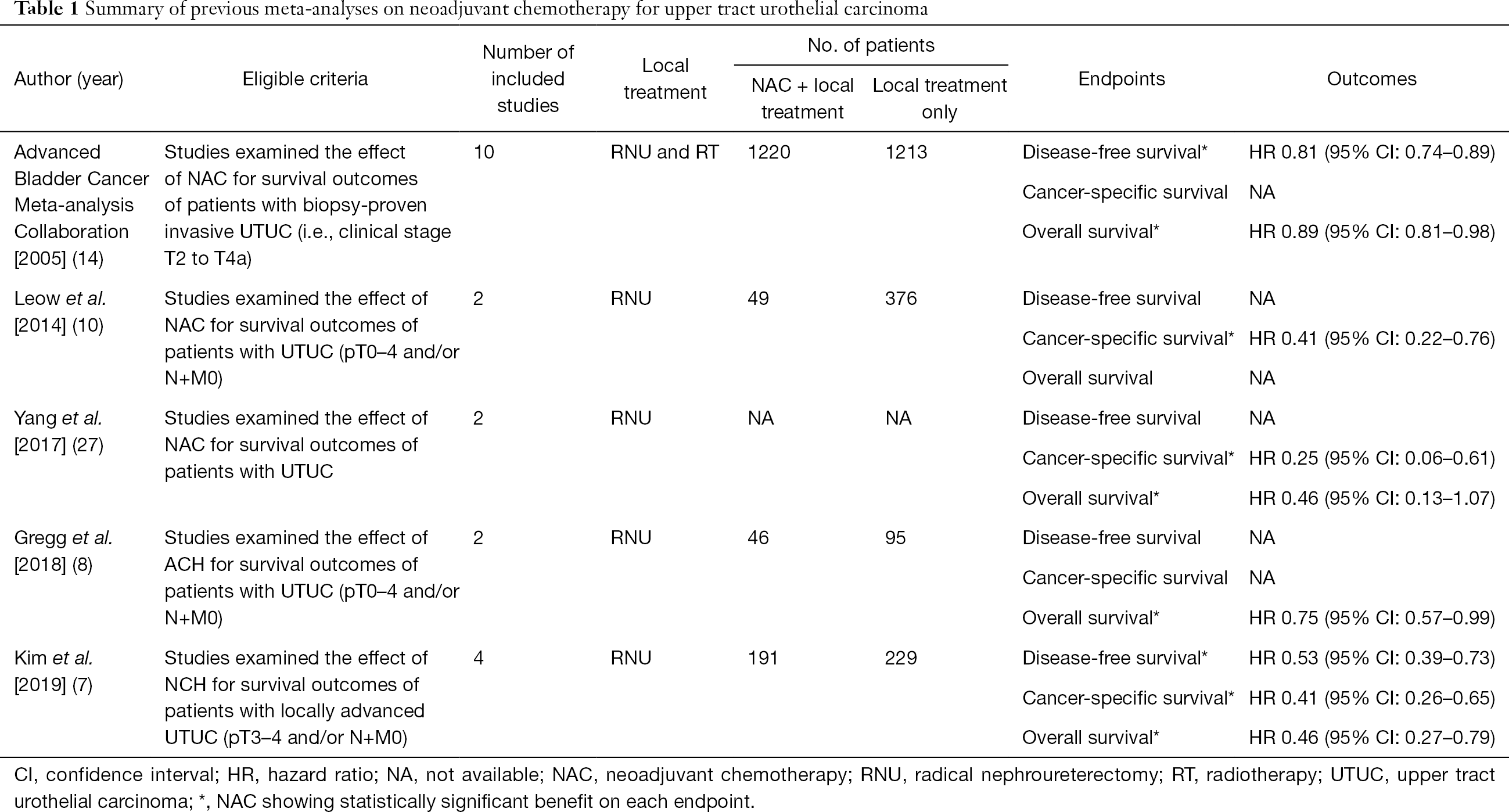 Table 1
Summary of previous meta-analyses on neoadjuvant chemotherapy for upper tract urothelial carcinoma
Full table
---
Future directions
The blockade of the programmed death-ligand 1 (PD-L1)–programmed death 1 (PD-1) pathway represents a new treatment for cancers with an extensive expression of PD-L1 and provides an OS benefit in several cancers (34-40). Nevertheless, there remains conflicting evidence on the prognostic significance of PD-L1 expression in UC. Balar et al. reported that atezolizumab, a blocking antibody targeting PD-L1, had a higher response rate in cases of UTUC than in those of UCB in a clinical trial of first-line treatment for cisplatin-ineligible patients with progressive UC (41). Some studies showed that PD-L1 expression was related to poor prognosis in UC (42-45), whereas others did not detect a relationship between PD-L1 expression and prognosis (46-48). Therefore, further studies are needed to improve our comprehension of the prognostic importance of PD-L1 expression in UC to better choose patients who have a possibility to respond to the blocking agent for PD-1/PD-L1.
---
Conclusions
Our comprehensive review about the role of NAC in UTUC revealed that compared with surgery alone, NAC may have a beneficial effect on survival outcomes in patients with UTUC with a high risk of relapse. It is well known that the renal function is deteriorated after RNU, and if perioperative chemotherapy is considered for advanced UTUC, NAC may be a more reasonable option than adjuvant chemotherapy. Several meta-analyses demonstrated a beneficial effect of NAC on advanced UTUC; however, the level of evidence was relatively low; thus, careful interpretation is needed. Moreover, careful selection of NAC candidates is needed to avoid the possibility of overtreatment. Further trials are needed to identify the most suitable patients and validate the use of NAC in daily clinical practice. Recent immunotherapy data showed positive results for UCB, but there is a lack of data on immune checkpoint inhibitors in UTUC.
---
Acknowledgments
Funding: None.
---
Footnote
Provenance and Peer Review: This article was commissioned by the Guest Editors (Dr. Ja Hyeon Ku, Dr. Hyeong Dong Yuk, and Dr. Hyung Suk Kim) for the series "Urothelial Carcinoma" published in Translational Cancer Research. The article was sent for external peer review organized by the Guest Editors and the editorial office.
Conflicts of Interest: All authors have completed the ICMJE uniform disclosure form (available at http://dx.doi.org/10.21037/tcr.2020.03.08). The series "Urothelial Carcinoma" was commissioned by the editorial office without any funding or sponsorship. The authors have no other conflicts of interest to declare.
Ethical Statement: The authors are accountable for all aspects of the work in ensuring that questions related to the accuracy or integrity of any part of the work are appropriately investigated and resolved.
Open Access Statement: This is an Open Access article distributed in accordance with the Creative Commons Attribution-NonCommercial-NoDerivs 4.0 International License (CC BY-NC-ND 4.0), which permits the non-commercial replication and distribution of the article with the strict proviso that no changes or edits are made and the original work is properly cited (including links to both the formal publication through the relevant DOI and the license). See: https://creativecommons.org/licenses/by-nc-nd/4.0/.
---
References
Cite this article as: Kim DK, Cho KS. Neoadjuvant chemotherapy for upper tract urothelial carcinoma. Transl Cancer Res 2020;9(10):6576-6582. doi: 10.21037/tcr.2020.03.08