Original Article
Multiplexed immunoassay-based serum cytokine profiling for potential prognosis predictors in patients with metastatic breast cancer
Introduction
Breast cancer represents the most common malignancy for women. The majority of breast cancer patients diagnosed at an early disease stage have a long-term survival time after standard therapy which includes surgery and adjuvant therapy. However, the patients with distant metastasis at their initial diagnosis, and those that develop metastatic disease during or after standard therapy are generally incurable. In these cases, the primary treatment goal is symptom palliation. Although it is widely accepted that metastatic breast cancer (MBC) occurs in 20–30% of women with breast cancer with a median survival ranging from 2 to 3 years (1-3), MBC patients usually experience a very wide range of survival time, ranging from less than one year to more than ten years, which indicates that the prognosis of MBC is significantly diverse (4). The diversity in the outcomes for MBC patients highlights the need to identify the markers that contribute to improved prognosis. Serum biomarkers are preferred by clinics because they are capable of being dynamically monitored in a noninvasive way.
Cytokines are polypeptide growth factors produced by most nucleated cells in the body (5). They work as the major mediator for the interactions between tumor cells and their microenvironments, which plays an important role in the development and progression of solid tumors, including breast cancer (6). To some extent, the cytokine levels in the serum can read out their expressions in the tumors; therefore, they are regarded as valuable prognostic biomarkers for cancer patients. For example, high serum IL-37 level was associated with unfavorable prognosis of epithelial ovarian cancer patients (7), and the serum levels of interleukin 8 (IL-8), macrophage inflammatory protein (MIP)-1α, MIP-1β were significantly higher in breast cancer patients (8). Nevertheless, despite sporadic reports on individual factors, a comprehensive profiling of multiple serum cytokines has not as of yet been reported for MBC patients. ProcartaPlex Multiplex Immunoassays, which incorporate magnetic microsphere technology to enable the simultaneous detection and quantitation of up to 100 protein targets in diverse matrices, allow us to systemically identify potential novel biomarkers in a single sample of serum for MBC patients.
By taking advantage of the ProcartaPlex technique, we performed a retrospective study in which 45 cytokines were assayed in 18 patients with MBC. Our work identified a group of cytokines in sera that may potentially serve as novel prognostic biomarkers for MBC patients, and favored serum cytokine profiling as a promising method in assisting the prediction of MBC prognosis.
---
Methods
Study design and patients
We performed a retrospective analysis of women with histologically confirmed MBC over a 1-year period in our clinic in China. The study was approved by the Institutional Ethical Committee of the Beijing Shijitan Hospital. All participants provided written informed consent for the research use of blood and the outcome data. Blood samples were collected before treatment and processed following standard procedures and cryopreserved without thawing before this analysis.
Serum cytokine detection
The concentrations of cytokines in the serum were determined using the ProcartaPlex Human Cytokine 45-plex immunoassay kits (EPX450-12171-901, eBioscience) following the manufacturer's recommendations. The 45 cytokines and growth factors assayed are brain-derived neurotrophic factor (BDNF), epidermal growth factor (EGF), eotaxin, fibroblast growth factor (FGF2), granulocyte-macrophage colony stimulating factor (GM-CSF), growth-related oncogene protein-α (GRO-α), hepatocyte growth factor (HGF), IFN-α, IFN-γ, IL-1RA, IL-1α, IL-1β, IL-2, IL-4, IL-5, IL-6, IL-7, IL-8, IL-9, IL-10, IL-12p70, IL-13, IL-15, IL-17A, IL-18, IL-21, IL-22, IL-23, IL-27, IL-31, IFN-γ-inducible protein 10 (IP-10, CXCL10), leukemia inhibitory factor (LIF), monocyte chemotactic protein 1 (MCP-1), macrophage inflammatory protein type 1β (MIP-1β, CCL4), MIP-1α, NGF-β, chemokine (C-C motif) ligand 5 (CCL5/RANTES), platelet-derived growth factor-BB (PDGF-BB), placenta growth factor-1 (PIGF-1), stem cell factor (SCF), stromal cell-derived factor 1 (SDF-1α), tumor necrosis factor-α (TNF-α), TNF-β, vascular endothelial growth factor-A (VEGF-A), and VEGF-D.
Statistical analysis
Statistical analysis was performed using SPSS 20.0 soft-ware (SPSS, Chicago, IL, USA). The overall survival (OS) was defined as time from when blood sample was first collected after admission to the clinic, until death due to any cause or the date of last contact with the patient or any family member. The results were analyzed using the Mann-Whitney U test. The prognostic value of the cytokines was studied using univariate analysis. P value <0.05 was considered statistically significant, and all values were one-sided.
---
Results
Patient characteristics
From April 2015 to April 2016, 18 patients with histologically confirmed MBC were enrolled in this retrospective study. The baseline characteristics of the 18 patients are summarized in Table 1. The median age was 47.4 years (range, 27.6–90.1 years). Most patients were hormone receptor-negative (55.6%) and HER2-positive (55.6%). The most common sites of metastasis were bone (72.2%), soft tissue (61.1%) and the lung (55.6%). The majority of patients had received prior anthracycline-based chemotherapy (84.4%), with more than half (54.7%) receiving both prior anthracyclines and taxanes.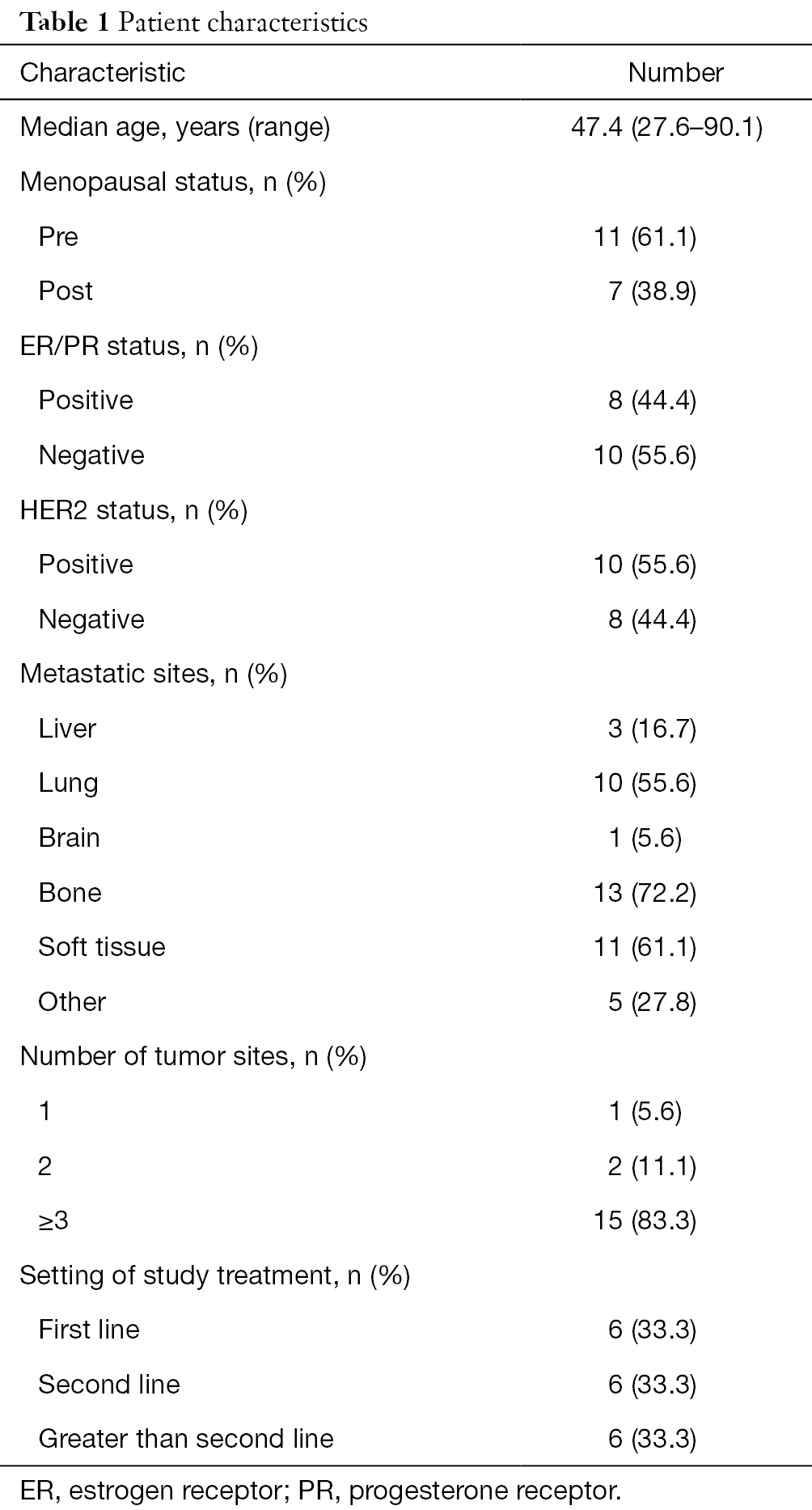 Serum cytokine levels in patients
Among the 45 cytokines assayed, 33 cytokines were detectable in more than 50% of the patients and were acceptable for further analysis. Twelve cytokines which failed to be detected in more than 50% of the patients were as follow: IL-4, IL-5, GM-CSF, IL-21, IL-22, IL-23, IL-9, INF-α, IL-1α, IL-7, TNF-β, VEGF-D.
Association between cytokine level and prognosis
All the patients were followed-up for at least one year. Ten of them died while 8 of them survived as of the last follow-up. The patients were divided into 2 groups according to their survival status. The association of cytokines level with survival status in all 18 patients was analyzed. As a result, from univariate analysis, MBC patient death was found to be significantly correlated with a group of cytokines including INF-γ, IL-18, NGF-β, FGF2, HGF, VEGF-A, IL-8, IP-10, MCP-1, MIP-1β (Table 2, Figure 1). Due to the limited sample size, the multivariate analysis was not performed.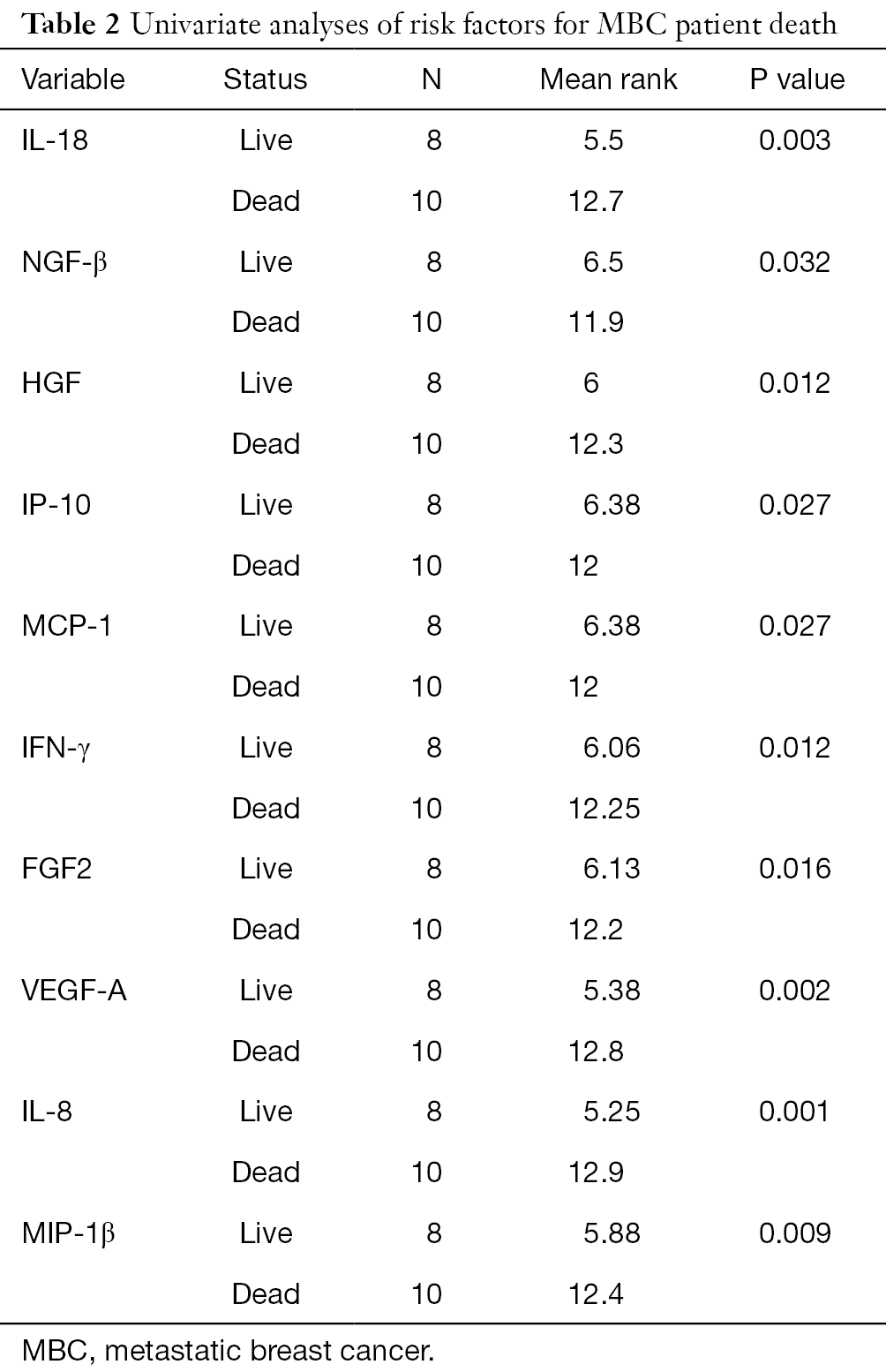 Table 2
Univariate analyses of risk factors for MBC patient death
Full table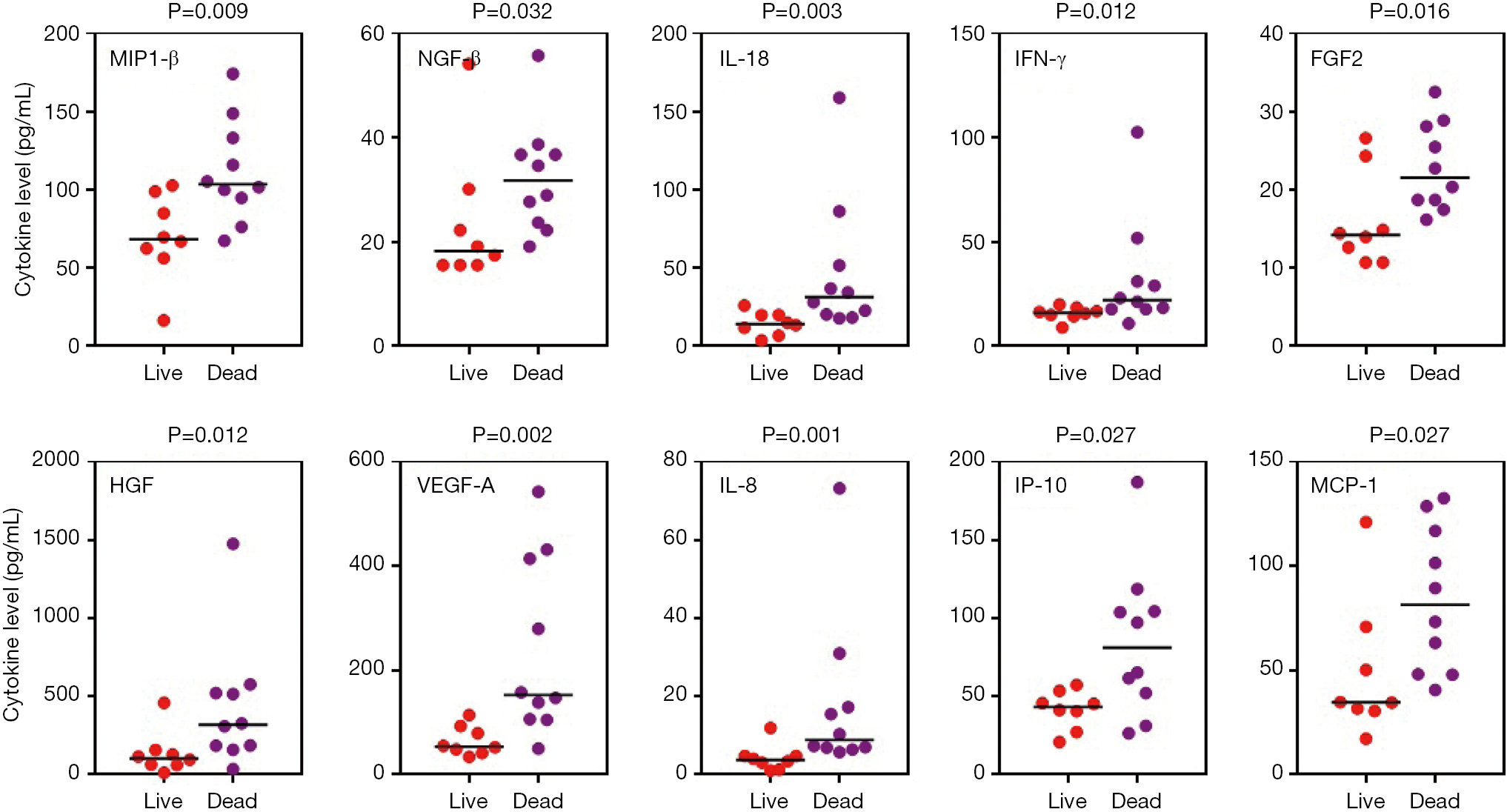 Figure 1 Scatter plot of cytokine levels in patients with metastatic breast cancer. Nlive =8, Ndead =10; P values for each comparison are indicated.
---
Discussion
There have been great efforts made to identify the prognostic markers for breast cancer, with a majority of the studies focusing on markers discriminating cancer patients from healthy individuals, or metastatic cancer from localized lesion. Research on identifying the prognostic factors to discriminate long-term survival from short-term death within MBC patients has been rather limited. In fact, clinical statistics indicated that some of the MBC patients could survive more than 10 years, while some only lived less than 1 year (4). This suggests that these two groups of people are internally different, and may be distinguished from each other at the molecular level.
To this end, we used the ProcartaPlex Immunoassays to simultaneously analyze 45 different cytokines in the serum samples from the MBC patients, who had been classified into 2 groups based on their survival statuses. Our data indicated that 10 cytokines in sera were significantly associated with MBC death. Based on their prior implications in MBC prognosis, these cytokines were roughly classified into 3 groups:
The 1st group of cytokines includes HGF, IL-8, FGF2 and VEGF, whose levels in serum were previously reported to be associated with MBC prognosis (9-11). For example, serum HGF levels were observed significantly higher in patients with progressive metastasis of breast cancer than those with stable metastasis. The high-HGF patients exhibited much shorter survival rate than those with low HGF levels (11). The identification of known MBC prognostic cytokines supports the application of our screening technique, even with a limited patient sample size.
The 2nd group of cytokines includes IL-18, MCP-1, MIP-1β, IFN-γ and IP-10, whose levels in serum were reported to be associated with the prognosis of breast cancers other than MBC (12-15). For example, the levels of serum IL-18 were found to be significantly higher in breast cancer patients than in control subjects, and in metastatic patients than in nonmetastatic patients (12). However, it is unclear whether serum IL-18 was associated with MBC of shorter survival. The similar is true for the other cytokines in this group. The implication of these cytokines in breast cancer is consistent with their roles in predicting MBC outcomes as potentially novel prognostic serum markers reported by this study.
The 3rd group of cytokines consists of only NGF-β. No association had been reported between its serum level and any breast cancer type, including MBC. Nevertheless, tissue NGF expression was identified as an independent prognostic indicator for relapse-free survival (16). Our result in this study indicated that serum NGF level was associated with the death of MBC patients, which makes it a promising candidate of serum prognostic biomarker for MBC.
Though the candidate factors identified in this study are associated with MBC patient survival, the impacts of this finding are considerably compromised by limited patient number. As is well known, the prognosis of MBC patients is influenced by multiple characteristic parameters, including the number of lesions, affected organs, lymph node metastases, statuses of ER, PR, and Her-2 and others. To evaluate the prognostic value of novel factors, a stratification-based multivariate analysis is needed with these known factors included; however, this was not feasible due to the limited number of patients. Therefore, limited patient number might have biasedly led to the generation of false positive candidates in this study. Nevertheless, we did evaluate the association of these prognostic factors with cytokine candidates and patient survival in the current patient setting and failed to reveal significant associations (data not shown). In light of this result, future validation of these cytokine candidates with an expanded patient number is warranted.
To our knowledge, this is the first retrospective study focusing on systemic serum cytokine profiling in Chinese MBC patients. The results indicated that the increased level of 10 cytokines was significantly associated with MBC death, although the independent prognostic value of these cytokines warrants further validation with more MBC patients. Among the cytokines identified, the serum levels of 6 cytokines were reported for the first time to be associated with MBC death, and constitute novel candidates of prognostic biomarker for MBC patients. Compared with previous studies on a single cytokine, simultaneous measurement of multiple cytokines would considerably improve the diagnostic value; therefore, it would be prudent if future studies investigated the prognostic value of a combined set of the candidate cytokines in patient sera in a larger sample size by multiplexed cytokine profiling.
---
Conclusions
Identification of these cytokines would facilitate the development of novel serum biomarkers for MBC, and favor multiplexed serum cytokines profiling as a promising method in predicting the outcome of MBC patients.
---
Acknowledgements
Funding: This work was funded by a grant from the Beijing Health System High-level Health Technical Personnel Training Project (grant number 2015-3-058), the National Natural Science Foundation of China (grant number 81572799), and the Beijing Natural Science Foundation (grant number 7162091).
---
Footnote
Conflicts of Interest: The authors have no conflicts of interest to declare.
Ethical Statement: This study protocol for the collection of samples and clinical information was approved by the Institutional Ethics Committee of Beijing Shijitan Hospital of Capital Medical University (No. 201845). All participants provided written informed consent for the research use of blood and outcome data.
---
References
Cite this article as: Huang H, Zhang Y, Li S, Zhao J, Wang X, Zhou X, Ren J. Multiplexed immunoassay-based serum cytokine profiling for potential prognosis predictors in patients with metastatic breast cancer. Transl Cancer Res 2018;7(6):1561-1566. doi: 10.21037/tcr.2018.11.29