Original Article
Neutrophil to lymphocyte and platelet to lymphocyte ratios as biomarkers to predict relapse and survival in posthepatectomy HBV-related hepatocellular carcinoma: a meta-analysis and preliminary immune perspective
Introduction
Hepatocellular carcinoma (HCC) represents the sixth most common malignancy and the third leading cause of cancer-related deaths globally (1). Due to the lack of specific symptoms at early stages, most patients are diagnosed at an advanced stage. This situation severely limits treatment options—sometimes to only palliative therapy—and has led to poor overall survival (OS). However, most early stage HCC patients could be cured if they have adequate liver function. Liver resection, liver transplantation, and radiofrequency ablation (RFA) are the main curative strategies for this disease. Hepatectomy, often the most preferred treatment option, is widely offered to early stage and some middle-stage HCC patients. However, because of the high risk of progression and lack of satisfactory adjuvant therapies (2), up to 70% of hepatectomy patients suffer from cancer relapse within 5 years, resulting in poor prognosis [1]. Therefore, it is critical to identify potential biomarkers associated with recurrence and mortality risk posthepatectomy. Currently, clinicopathologic characteristics such as tumor size, vascular invasion, and margin involvement are often used to predict recurrence and survival outcomes (3).
Cancer-associated infections, especially viral infections that often cause chronic inflammation, are responsible for more than 15% of cancer cases worldwide (4). Chronic inflammatory conditions such as hepatitis contribute significantly to tumorigenesis, cancer progression, treatment failure, and recurrence. Unlike in Western countries, in Asian countries, hepatitis B virus (HBV) infection accounts for up to 85% of new cases and is the leading cause of HCC development (5). Therefore, HBV-related HCC biology and chronic inflammatory conditions directly impact the clinical outcomes of treatments such as liver resection and transplantation. A recently published, multicenter, retrospective study showed that viral status along with other factors such as tumor size, tumor differentiation, margin status, vascular invasion, and Child-Pugh score significantly contributed to long-term survival in hepatectomy patients with HBV-related HCC (6).
Neutrophil to lymphocyte ratio (NLR) and platelet to lymphocyte ratio (PLR) are widely accepted inflammatory and immune biomarkers that often reflect cancer immune status (7). Previous studies have demonstrated that these markers could predict cancer recurrence and patient survival in postoperative gastric cancer (8), breast cancer (9), colorectal cancer (10), and HCC (11). However, contradictions or inconsistencies have resulted from differences in study design and limited sample sizes. Notably, HCC often has considerably high heterogeneity and multiple etiologies, such as hepatitis B/C viral infection and alcohol abuse. Infection with HBV is the most common etiology in the Asian population and in high-mortality HCC patients. Therefore, the prognostic value of these biomarkers for HCC associated with HBV status is of great interest. Previous studies have revealed that increased NLR and PLR are associated with poor outcomes for posthepatectomy HBV-related HCC patients (12,13). However, according to studies reported by Li et al. (14) and Rungsakulkij et al. (15), there are no obvious connections between patient outcomes and NLR or PLR levels.
In addition to collecting and screening previously published data, we re-explored the predictive values of both NLR and PLR in hepatectomy HCC patients with HBV infection. The potential regulatory functions of immune cells of NLR and PLR including neutrophils, lymphocytes, and platelets in HBV infection and HCC tumor progression were characterized. We present the following article in accordance with the Preferred Reporting Items for Systematic Reviews and Meta-Analyses (PRISMA) reporting checklist (available at http://dx.doi.org/10.21037/tcr-20-3125).
---
Methods
Search strategy and criteria
Published studies potentially related to HCC hepatectomy and NLR and PLR were extracted from the PubMed, Embase, Scopus, and Cochrane Library databases in December 2020. The key words "hepatocellular carcinoma", "neutrophil lymphocyte ratio", "platelet lymphocyte ratio", and "hepatectomy" and related abbreviations were applied for screening and identification of candidate studies to be included in the meta-analysis. Multiple synonyms were also utilized. Eligible studies were assessed using the following criteria: (I) all post-hepatectomy patients had been diagnosed with HCC by pathological examination; (II) the association between NLR and RFS/OS and between PLR and RFS/OS were evaluated; (III) the peripheral blood samples were obtained before surgery. Exclusion criteria for this meta-analysis were as follows: (I) the study was not restricted to humans; (II) the published materials were review articles, case reports, or conference abstracts; (III) studies had insufficient data to calculate a hazard ratio (HR) and 95% confidence interval (CI); (VI) studies included non HVB-related HCC patients. If multiple studies were reported by the same team from the same institute or were performed at the same time, only the most recent article was included.
Date management and outcome assessment
Available articles were independently selected and reviewed by 2 authors through abstract and full-text reading. In the case of disagreement between them, final decisions were made by a senior author. The HRs and 95% CIs of OS and recurrence-free survival (RFS) were collected and recognized as the effective measurements. We preferentially extracted the HRs and their 95% CIs calculated by multivariate analysis to achieve better accuracy.
Quality assessment
The UK Cochrane Centre of Evidence (2009) (16) was used to estimate the evidence level of the studies. The quality of the retrospective cohort studies was assessed using the Newcastle-Ottawa Scale (16). This scale consists of three factors: the selection of patients, comparability of the study groups, and assessment of outcome. The maximum total score was 9; studies with scores ≥6 were defined as high-quality studies, and this was a presetting selection criterion in this report.
Statistical analysis
The HRs and associated 95% CIs were calculated to pool the functional outcomes. Statistical heterogeneity among the studies was assessed using chi-square tests with the significance set to P<0.05 or I2>50%. A fixed-effects model was utilized if there was no evident heterogeneity; otherwise, we selected a random-effects model to minimize the heterogeneity followed with subgroup and sensitivity analysis. Funnel plots, Egger's test, and Begg's test were used to examine publication bias. All statistical analyses were performed using STATA version 14.0 (Stata statistical software, College Station, TX, USA).
---
Results
Characteristics of the selected articles
In total, 869 articles were identified from the 4 online databases, and 492 were removed due to duplication. After scanning the titles and abstracts, 313 articles were excluded; of these, 234 were unrelated, 18 were review papers, 14 were case reports, 38 were conference abstracts, and 9 were experimental studies. According to the above exclusion criteria, 11 eligible studies were identified and included in our meta-analysis following confirmation by reviewing the full text (Figure 1). The most common reason for exclusion was that the studies included non-HBV-related cases (n=26). A total of 17 studies were excluded because they did not report the OS or RFS.
Overall, 5083 patients from the 11 retrospective cohort studies were included in this study (12-15,17-23). The level of evidence was 2a. There were 10 and 8 studies reporting the prognostic role of NLR and PLR, respectively, and 6 reported both. The cutoff values of NLR and PLR were 0.6–3.0 and 62.5–150.0, respectively. Based on the Newcastle-Ottawa Scale, all studies received a quality score of 6–9 (Table 1).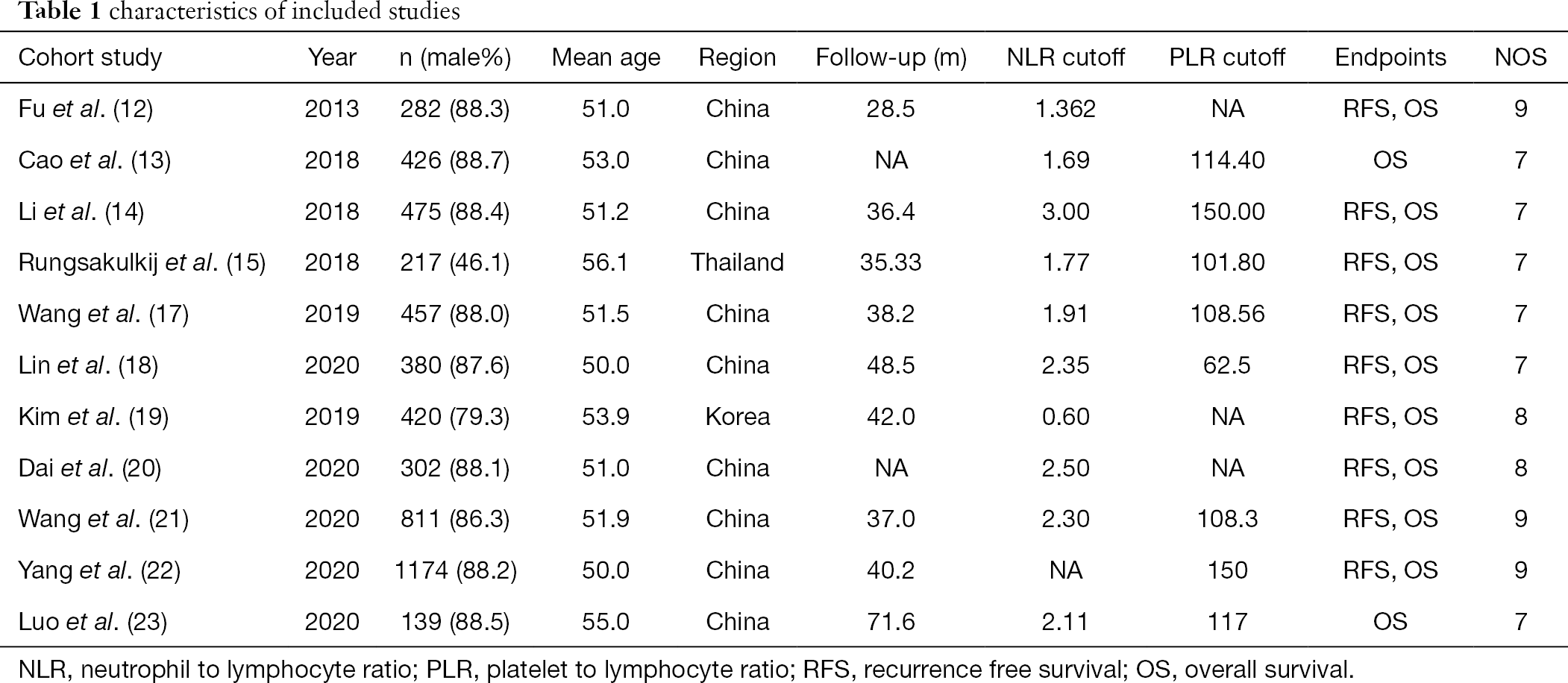 Table 1
characteristics of included studies
Full table
NLR for prediction of posthepatectomy survival
The NLR predicting RFS of HCC patients after surgery was reported in a total of 8 cohorts with 3,344 patients. According to the heterogeneity (I2=57.3%, P=0.022), a random-effects model was used to analyze these data, and we found that an elevated NLR significantly correlated with poor RFS (HR: 1.28, 95% CI: 1.09–1.50, P=0.000) (Table 2, Figure 2A). Similarly, there was a significant correlation between an elevated NLR and a poor OS in HBV-related HCC patients who underwent hepatectomy (HR: 1.64, 95% CI: 1.32–2.03, P=0.000) (Table 2, Figure 2B) according to the pooled analysis of the 10 cohorts with the random-effects model (I2=67.2%, P=0.004). Thus, a decreased NLR predicted a better RFS and OS in posthepatectomy HCC patients with HBV infection.

Table 2
Result of meta-analysis of interested outcomes
Full table
Figure 2 Forest plots of the correlation between NLR and PLR in predicting HBV-related HCC patients outcomes. (A) NLR predicts recurrence risk. (B) NLR predicts survival. (C) PLR predicts relapse risk. (D) PLR predicts mortality risk. NLR, neutrophil to lymphocyte ratio; PLR, platelet to lymphocyte ratio; HBV, hepatitis B virus; HCC, hepatocellular carcinoma.
PLR for prediction of posthepatectomy survival
A pooled analysis of the 6 cohorts with a fixed-effect model (I2 = 44.0%, P=0.106) showed that an increased PLR was significantly associated with the high risk of posthepatectomy relapse (HR: 1.40, 95% CI: 1.28–1.53, P=0.000; Table 2, Figure 2C). Furthermore, analysis of the 6 cohorts with 3051 HBV-infected HCC patients showed that low PLR was significantly correlated with better OS (HR: 1.63, 95% CI: 1.42–1.87, P=0.000; Table 2, Figure 2D). These findings indicated that a lower PLR was linked to better outcomes in HBV-related HCC patients after hepatectomy.
Subgroup analysis of the prognostic value of NLR
Due to obvious heterogeneity among the studies related to the prognostic role of NLR in HBV-related HCC patients, we performed a subgroup analysis by area, analysis methods, and NLR cutoff value. This revealed that elevated NLR was associated with poor RFS in studies performed in China (HR: 1.38, 95% CI: 1.16–1.63, P=0.000). In addition, we found that increased NLR was an obvious risk factor for tumor recurrence when pooled analyzed the effective measures which calculated with multivariate analysis (HR: 1.58, 95% CI: 1.16–2.12, P=0.002). In the subgroup analysis of cutoff values, a decreased NLR was associated with better RFS in the studies with cutoff values >2 (HR: 1.41, 95% CI: 1.06–1.88, P=0.034; Table 3).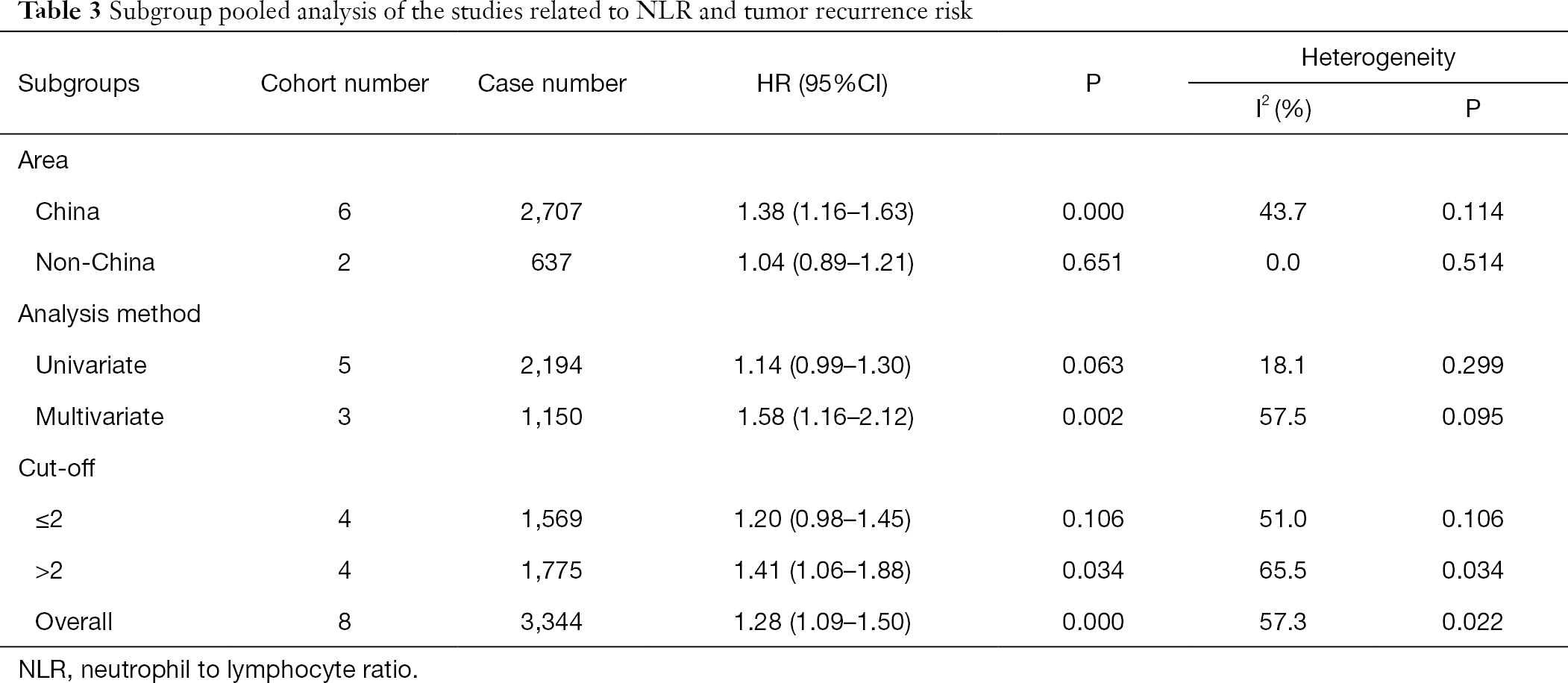 Table 3
Subgroup pooled analysis of the studies related to NLR and tumor recurrence risk
Full table
The other subgroup analysis was performed on those studies examining NLR prediction of mortality risk. NLR was significantly associated with poor OS in the studies from China (HR: 1.79, 95% CI: 1.53–2.10, P=0.000). The survival prognostic value of NLR was significant, independent of the analysis method or cutoff value (Table 4).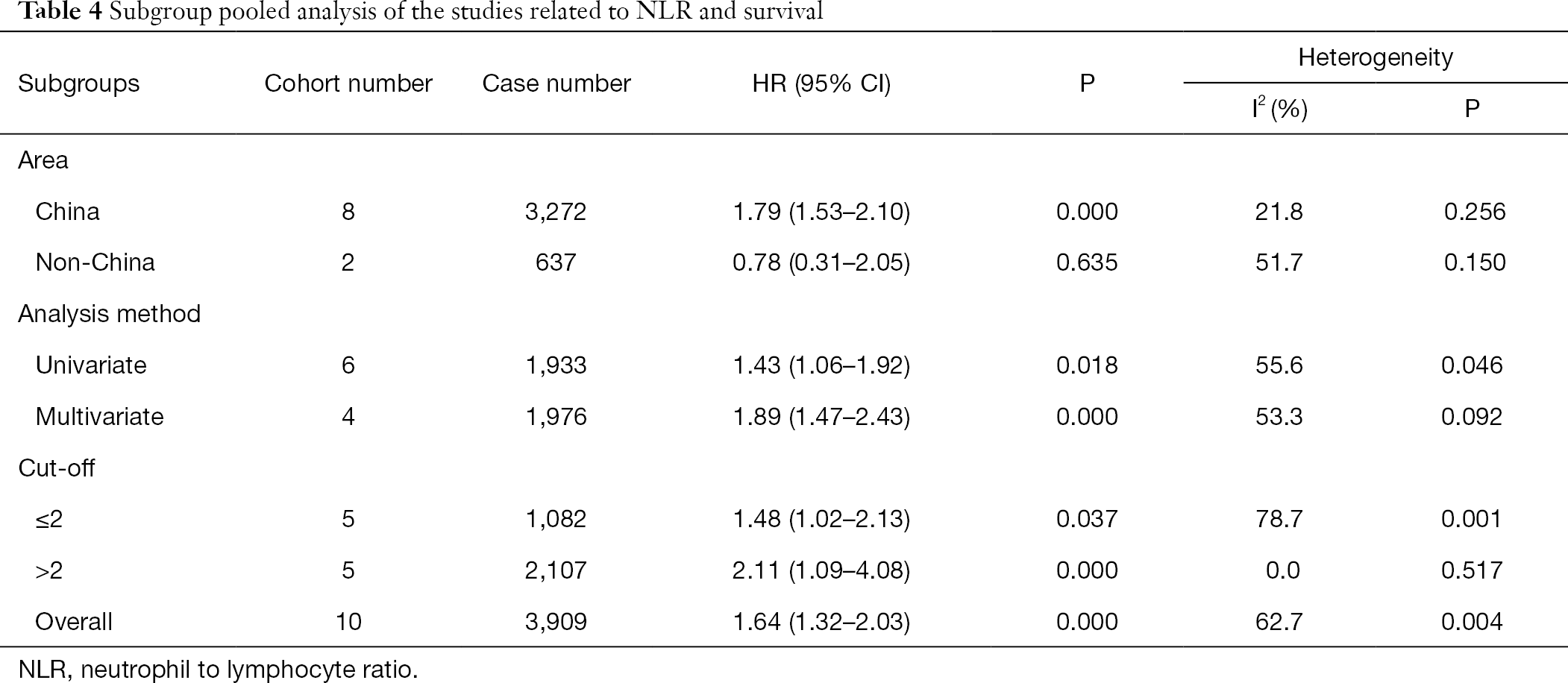 Table 4
Subgroup pooled analysis of the studies related to NLR and survival
Full table
Sensitivity and publication bias analysis
We performed a sensitivity analysis with the leave-one-out method to examine the stability of the pooled analysis results about NLR predictive value. The statistical significance of the results did not change when any single study was excluded, which indicated the results of this meta-analysis were stable and robust (Figure 3).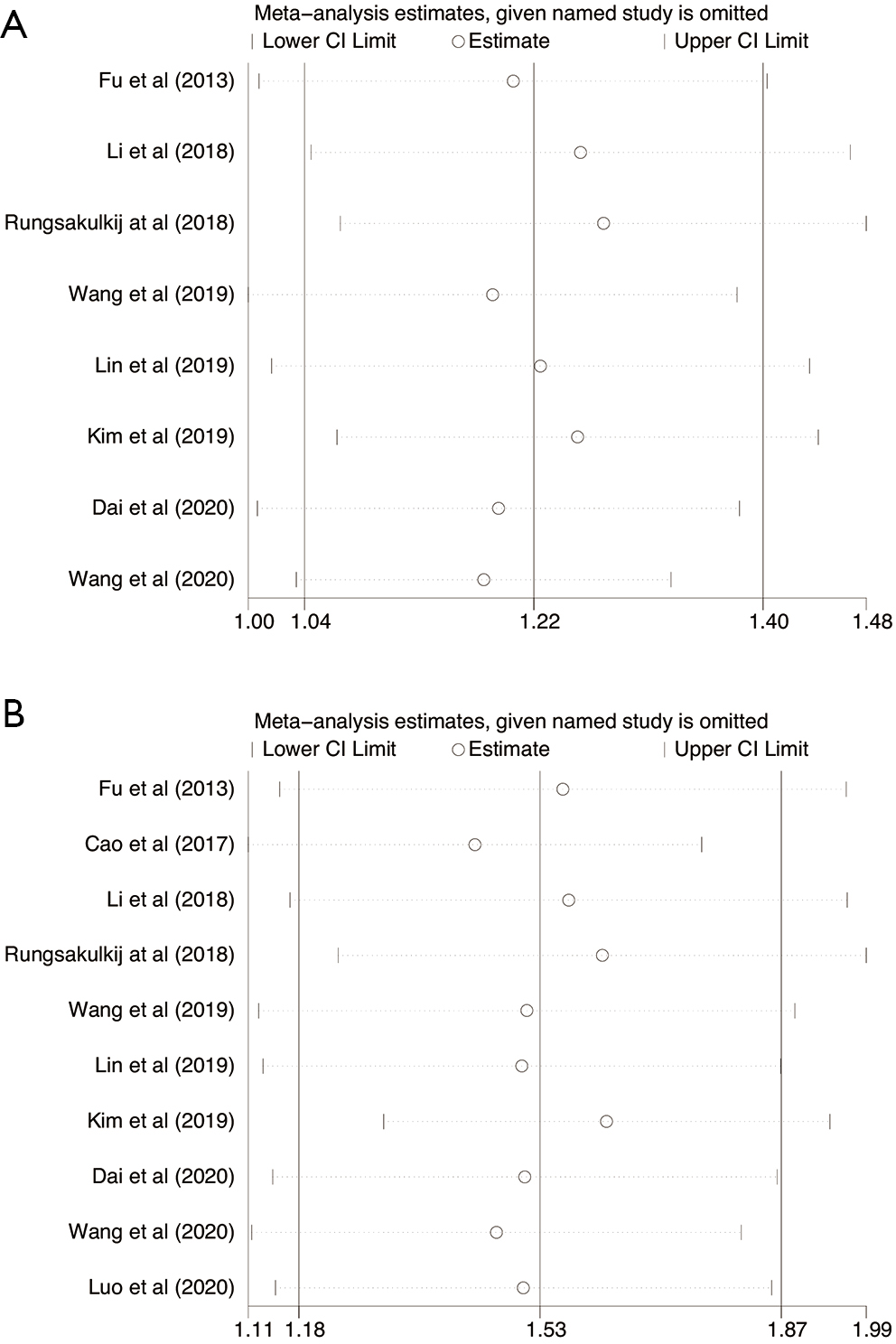 Figure 3 Results of the leave-one-out method for the impact of NLR on outcomes. (A) RFS. (B) OS. NLR, neutrophil to lymphocyte ratio; RFS, relapse-free survival; OS, overall survival.
No evidence of obvious publication bias was detected according to the results of Egger's test (P>0.05), Begg's test (P>0.05) (Table 2), and the symmetry of funnel plots (Figure 4).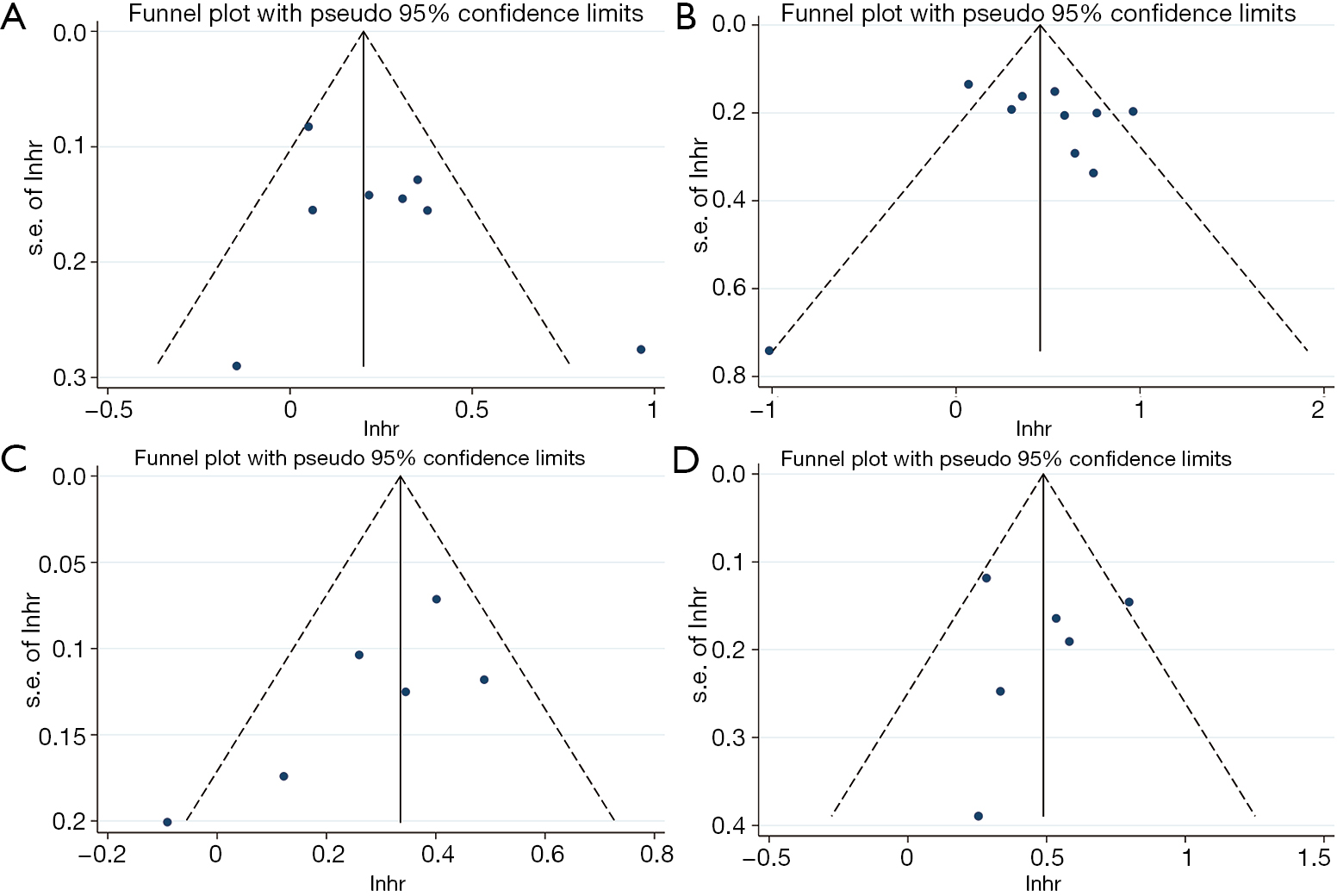 Figure 4 Funnel plots for assessment of publication bias. (A) RFS for NLR. (B) OS for NLR. (C) RFS for PLR. (D) OS for PLR. RFS, relapse-free survival; NLR, neutrophil to lymphocyte ratio; OS, overall survival; PLR, platelet to lymphocyte ratio.
Immune cells of NLR, PLR, and functions in HBV-related HCC
Neutrophils and platelets are involved in the suppression of immune functions of CD8+ T cells and promote tumor progression and early angiogenesis by recruiting macrophages and regulatory T cells (Tregs) (24-32) (Table 5). Therefore, high neutrophil and platelet counts would directly contribute to high NLR and PLR. However, different lymphocyte types have different immune regulatory functions depending on the conditions, HBV infection status, and tumor stage. The CD8+ cell population represents active HBV clearance and anti-HCC tumor progression (33-37). The CD4+ and immune-suppressive immune cells such as myeloid-derived suppressor cells (MDSC) and Tregs often contribute to an immune-tolerant tumor microenvironment and poor clinical outcomes in HCC patients (38-42).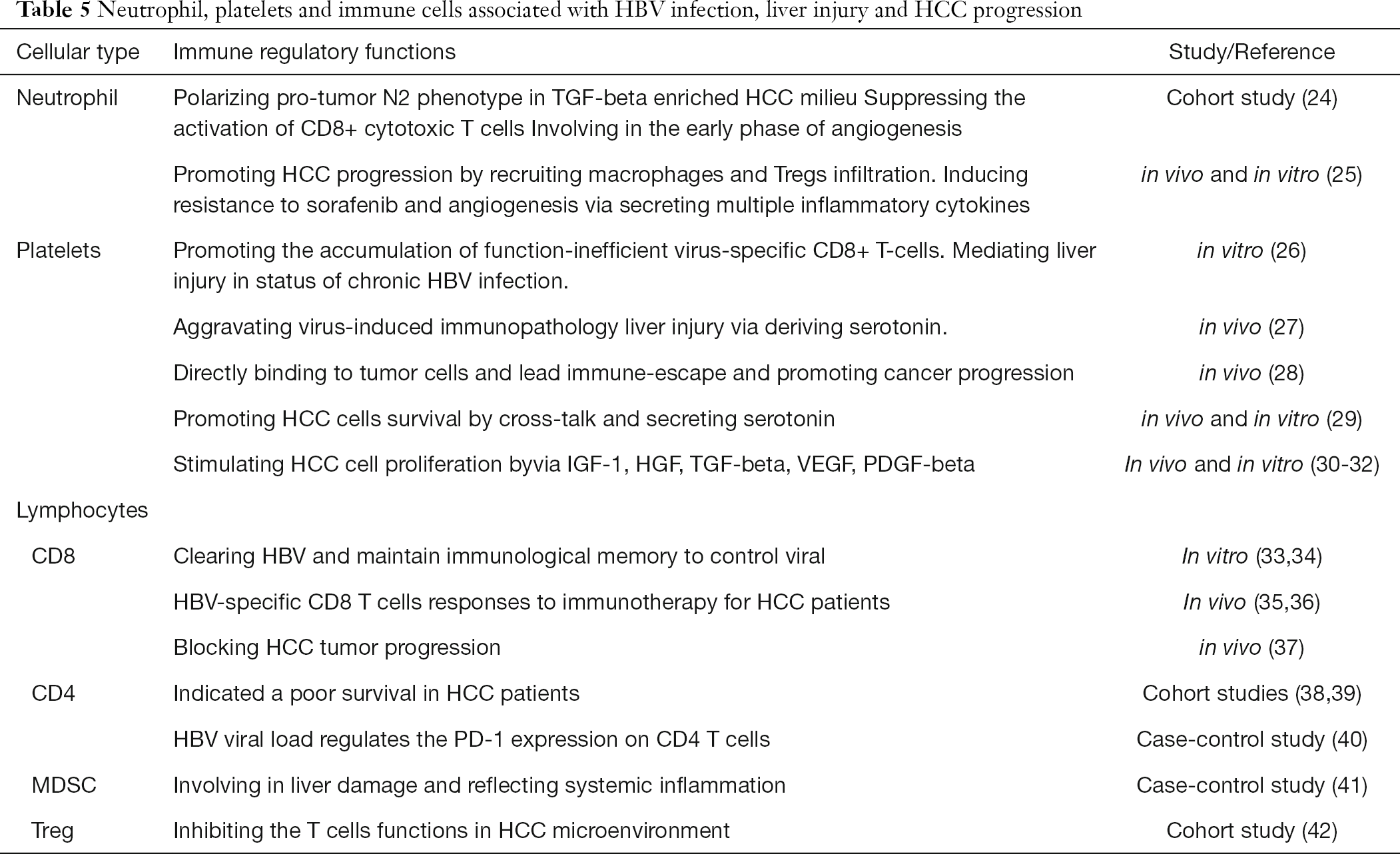 Table 5
Neutrophil, platelets and immune cells associated with HBV infection, liver injury and HCC progression
Full table
---
Discussion
NLR and PLR are often considered inflammatory markers and reflect cancer immune status. Inflammation is one of the hallmarks and driving factors of cancer (43). Tumor biology, including in HCC, is strongly regulated by multiple cytokines, such as interleukins (ILs), tumor necrosis factor (TNF), and interferons (INFs), which are secreted by a variety of inflammatory cells (44). Accordingly, the proportion of inflammatory cells that reflect cancer features are commonly considered as outcome predictors.
Inflammation is a critical factor involved in the pathogenesis of HCC. Numerous studies have reported the potential prognostic value of NLR and PLR in patients with postoperative HCC including HBV-related HCC. However, due to inconsistent results reported in those studies, it is still necessary to reassess their predictive role in these patients, especially those with HBV infection. In the present study, a pooled analysis was performed based on 11 eligible studies involving 5,083 HBV-infected HCC participants with initially resectable tumors. It was confirmed that both increased NLR and PLR significantly predicted poor RFS and OS without obvious publication biases. This result indicated that the recurrence and mortality risk of HBV-related HCC patients who undergo tumor resection can be estimated by NLR and PLR levels. Our results are consistent with the findings of a previous meta-analysis indicating that NLR and PLR are reliable prognostic markers in HCC patients who have received multiple treatments, including transarterial chemoembolization, RFA, liver transplantation, and systemic therapies (45).
Several lines of evidence support the concept that HBV infection–related inflammatory and immune indexes are tightly associated with HCC tumor progression, recurrence, and relapse. It has been reported that HBV-DNA and hepatitis B surface antigen (HBsAg) levels are independent factors for predicting cancer recurrence in HCC patients who undergo hepatectomy (46). Moreover, Wang et al. found that regulating the systemic inflammation status could overcome postoperative recurrence in patients with HBV-related HCC (47). Therefore, anti-HBV therapy has been recommended as an effective treatment option for preventing HBV-related HCC recurrence (48). However, one retrospective study found that NLR and PLR partially reflected HBV-DNA and HBsAg levels in patients with chronic HBV infection–related diseases; this finding indicates that NLR and PLR could reflect HBV-induced chronic inflammation (49).
Neutrophils, as common inflammatory cells, play an important role in the tumor microenvironment and regulate the processes involved in immune escape, angiogenesis, and metastasis, by secreting multiple cytokines, including IL-8, TNF-α, vascular epidermal growth factor (VEGF), and matrix metalloproteinase 9 (MMP 9) (50,51). Peripheral neutrophilia and increased neutrophil infiltration in the HCC tumor mass were found to be independent predictors of poor prognosis (52,53). Lymphocyte percentage decreases when NLR or PLR increases. Lymphocytes, especially T lymphocytes, have been associated with a better prognosis in patients with postoperative HCC (54,55). It has also been revealed that tumor-infiltrating lymphocytes regulate IL-17 and INF-γ expression, thus contributing to the inhibition of HCC progression (56).
Platelets are multifunctional cells and are involved in inflammation and a variety of cancer biology-related processes. Several cytokines such as insulin-like growth factor-1 (IGF-1), epidermal growth factor (EGF), hepatocyte growth factor (HGF), fibroblast growth factor (FGF), VEGF, and platelet-derived growth factor (PDGF) are secreted by platelets, which contribute to the promotion of angiogenesis, immune escape, and metastasis (57-59). According to retrospective studies in HCC patients, thrombocytosis is significantly associated with large tumor size, high α-fetoprotein levels, early extrahepatic metastasis, and poor OS and RFS (60,61). Similar results were reported by a recent meta-analysis (62).
In summary, high NLR and PLR may reflect immune abnormalities in the cancer microenvironment, which have a negative influence on the outcomes of cancer patients. In this meta-analysis, we confirmed the prognostic value of these markers in HBV-related HCC patients who underwent hepatectomy.
Nevertheless, there were several limitations of this work that should be considered while interpreting these findings and applying these results in clinical practice: firstly, the cutoff values for NLR and PLR ranged widely among the studies, and further studies are needed to establish standard and optimal values for clinic practice. Secondly, most included studies were conducted in China, which may restrict the application of the findings to other areas. Thirdly, the HRs and their 95% CIs were extracted from univariable analysis in several studies, which might have led to an overestimation of the prognostic value of these markers. Lastly, all enrolled studies were conducted retrospectively; therefore, it is necessary to perform large-sample, well-designed studies to acquire high-quality evidence.
---
Acknowledgments
We thank professor J. Jones and J. Gray for polishing this manuscript.
Funding: Natural Science Foundation of Jiangsu Province (NO. BK20200275).
---
Footnote
Reporting Checklist: The authors have completed the PRISMA reporting checklist. Available at http://dx.doi.org/10.21037/tcr-20-3125
Peer Review File: Available at http://dx.doi.org/10.21037/tcr-20-3125
Conflicts of Interest: All authors have completed the ICMJE uniform disclosure form (available at http://dx.doi.org/10.21037/tcr-20-3125). The authors have no conflicts of interest to declare.
Ethical Statement: The authors are accountable for all aspects of the work in ensuring that questions related to the accuracy or integrity of any part of the work are appropriately investigated and resolved.
Open Access Statement: This is an Open Access article distributed in accordance with the Creative Commons Attribution-NonCommercial-NoDerivs 4.0 International License (CC BY-NC-ND 4.0), which permits the non-commercial replication and distribution of the article with the strict proviso that no changes or edits are made and the original work is properly cited (including links to both the formal publication through the relevant DOI and the license). See: https://creativecommons.org/licenses/by-nc-nd/4.0/.
---
References
Cite this article as: Zheng X, Ye B, Gou Y, Li Z, Chen C, Liao F, Liu X, Qin S. Neutrophil to lymphocyte and platelet to lymphocyte ratios as biomarkers to predict relapse and survival in posthepatectomy HBV-related hepatocellular carcinoma: a meta-analysis and preliminary immune perspective. Transl Cancer Res 2021;10(3):1261-1272. doi: 10.21037/tcr-20-3125