Review Article
Morphological and pathological features of basal-like breast cancer
Introduction
Breast cancer (BC) comprises a wide group of diseases characterized by different molecular subtypes with specific gene signatures and distinct clinical outcomes (1). Genomic studies, such as the PAM50 gene expression assay (2), allow to classify BC into at least five intrinsic subtypes comprising: luminal A (estrogen-receptor and/or progesterone-receptor positive, HER2 negative, and low expression of Ki-67) and luminal B (estrogen-receptor and/or progesterone-receptor positive, HER2 positive/negative with high levels of Ki-67) expressing luminal epithelial layer genes of the breast gland; "HER2-enriched" showing high expression/amplification of the HER2 receptor and adjacent genes on 17q12–21 chromosome; basal-like breast cancer (BLBC), with a pattern of expression similar to basal epithelial and normal myoepithelial cells of breast tissue; and "normal-like" BC, characterized by adipose and other non-epithelial genes expression and high basal-like and low luminal gene expression (2,3).
Approximately 15% of all BC are of BLBC subtype and represent a particularly aggressive tumor affecting mostly young women and associated with more aggressive behavior and worse prognosis (4). BLBCs are characterized by a high risk of brain and lung metastases, and by none correlations between the primary tumor size and regional lymph node metastases rate, differently from other BC subtypes (5).
Histologically, the majority of BLBCs are invasive ductal carcinomas of no special type (IDC-NST) type, with high histological grade, higher mitotic indices, and a rife lymphocytic infiltrate (6). BLBC comprise a heterogeneous group of BC tumors and only the use of specific immunohistochemical marker panels allowed the correct stratification of the different entities (7):
BLBC with the lack of estrogen receptor (ER), progesterone receptor (PR), and HER2 expression also defined as 'triple-negative' (TNBC) immunophenotype;
BLBC with the expression of one or more high-molecular-weight/basal cytokeratins (CK5/6, CK14, and CK17);
BLBC with the lack of expression of ER and HER2 together with expression of CK5/6 and/or EGFR;
BLBC associated to CK5/6 and/or EGFR expression, and the lack of ER, PR, and HER2 receptor.
Although BLBCs and TNBCs are often confused, these two terms are not synonymous. As a matter of the fact, most of the TNBCs are of basal-like phenotype, but not all BCs expressing 'basal' markers are TNBC. Likewise considering their molecular gene profiles, not all BLBC lack ER, PR and HER2 expression and not all TNBCs show basal-like phenotype markers. Molecularly, BLBC are considered more homogeneous than TNBC, but the terminologies continue to be misused (7).
This mini-review summarizes the main morphological, pathological and molecular features of BLBC we will focus the attention also on new biomarkers with higher sensitivity and/or specificity that could improve the performance of diagnosis and management of this tumor subtype.
---
Microscopic characteristics and histological subtypes of BLBC
BLBCs originate from the outer cell layer of the ductal and lobular frames of the breast gland, nearby the basal membrane. BLBC cells are prevalently myoepithelial with epithelial and smooth muscle features, and consequently they express smooth muscle markers and myofilament proteins (8).
General characteristics of BLBC are tumor size larger than 2 cm, histological grade of 3, and high mitotic rate (average 25 mitoses/10 HPFs). Tumor cells reveal vesicular chromatin pattern and prominent nucleoli. A central necrosis (in the middle of the tumor islands) has been observed in about 65% of cases and a geographic necrosis in roughly 40% of BLBCs (9). Moreover, a marked lymphoplasmacytic infiltration is more frequent in BLBC than in non-basal-like cancers (9).
BLBC involves almost all different histological types of BC, including invasive ductal carcinoma, invasive lobular carcinoma, mixed carcinoma, mucinous carcinoma, metaplastic carcinoma, papillary carcinoma, medullary carcinoma, tubular carcinoma, apocrine carcinoma, micropapillary carcinoma, signet ring cell carcinoma, pleomorphic carcinoma, cribriform carcinoma and more rarely neuroendocrine carcinoma and atypical medullary carcinoma (10).
Invasive ductal carcinoma of no special type (IDC-NST) represents the most common histological type of BLBC. IDC-NST accounts for about 82% of the tumors and is characterized by a worse clinical behavior and prognosis (11). IDC shows a ductal proliferation with stromal invasion, frequently associated to foci of ductal carcinoma in situ (DCIS). However, most IDCs do not represent specific histotype and are defined as IDC-NST (12). They are characterized by pleomorphic cells with many mitoses and prominent nucleoli, and the cells are organized to form diffuse sheets, cords, nests, or singly distributed cells frequently with a ductal differentiation as shown in Figure 1 (12). Medullary carcinoma account for about 10% of BLBCs and is characterized by large and pleomorphic cells, poorly differentiated with scanty stroma and prominent lymphoid infiltration (13) (Figure 1C). Medullary BC is a BLBC with a favorable outcome, whereas non-medullary BLBC generally has a poor prognosis. Several gene expression profiling studies showed that medullary BC is associated with a specific molecular signature reflecting a TH1-type immune response (13). Metaplastic carcinoma represents about 10% of all BLBCs and is characterized by spindle, chondroid, osseous and rhabdoid cells with squamous epithelium or mesenchymal differentiation (14) (Figure 1). Pleomorphic carcinoma is very rare and account for about 2% of all BLBCs. Cells with eosinophilic cytoplasm and hyperchromatic eccentric nucleus with prominent nucleolus are predominant in this subtype (15). BLBCs can also display areas of invasive lobular and tubular carcinoma (tubule-lobular carcinoma) (16) (Figure 1B).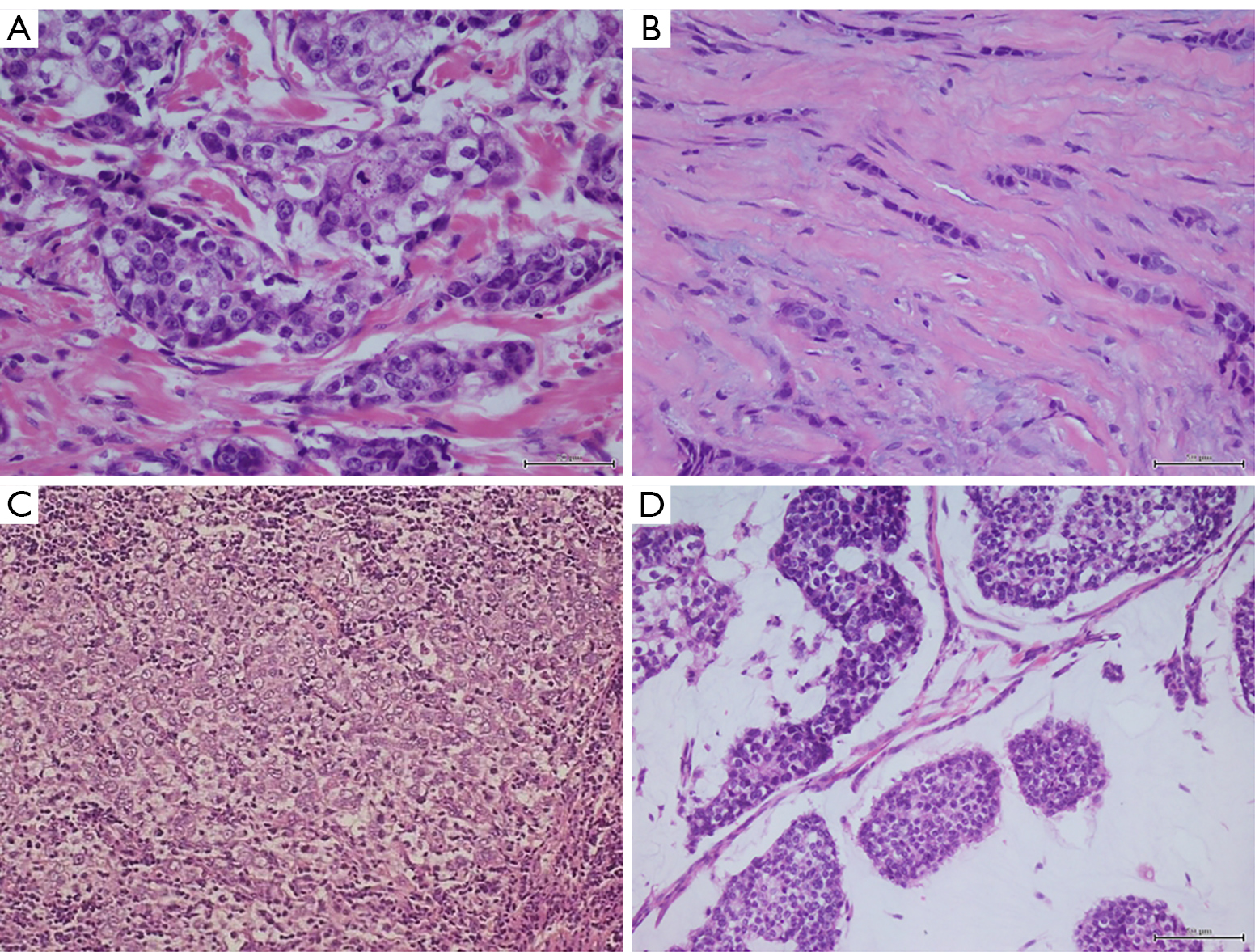 Figure 1 Main histological types of BLBC (HE, ×40). (A) IDC-NST with a predominant trabecular architecture (in the central part of the image a mitosis is present); (B) lobular carcinoma with chain aspect of neoplastic cells; (C) medullary carcinoma with pleomorphic cells and intratumoral lymphocytic infiltrate; (D) mucinous carcinoma with groups of ductal cells immersed in abundant mucus. BLBC, basal-like breast cancer; IDC-NST, invasive ductal carcinomas of no special type.
Basal-like mucinous carcinoma is of epithelial tumor cells with moderate nuclear atypia surrounded by abundant extracellular mucus (17) (Figure 1D). Basal-like neuroendocrine tumor cells are characterized by small, round or spindle cells, organized in alveolar, nest, trabecular, and rosette patterns (18).
---
Immunohistochemical markers
Typical immunohistochemical markers for BLBCs are represented by high basal-like cytokeratins (CK5/6, CK14, CK17), EGFR, P-cadherin, or c-kit expression and by lack of CD10, SMA, and p63 expression. Another distinguishing feature is the lack of expression of ER, PR, HER2 and high mitotic index or p53 aberrant expression (6).
About 50% of BLBCs are positive for both cytokeratin CK5/6 and EGFR, about 40% of them show positivity for CK5/6 and negativity for EGFR, whereas and a very small proportion of BLBCs is positive only for EGFR (6).
In about 27% of the BLBCs cytokeratin 14 is identified. Vimentin is expressed in about 52% of cases and both CK14 and vimentin co-expressions are significantly associated with the BLBC subtype (19).
Despite the molecular classification of basal-like tumors suggest a myoepithelial cell origin, most BLBC express luminal-type CKs, such as CK8/18, CK19, on the contrary only few cases express typical myoepithelial markers (such as actin and p63). About 50% of basal-like medullary carcinomas show strong immunoreactivity for P-cadherin, SMA and S100 (8).
BLBCs are characterized by higher expression of cell cycle genes such cyclin E1, BUB1, topoisomerase Iiα, CDC2, and PCNA and by Rb pathway inactivation (20). Moreover, fatty acid binding protein-7 (FABP-7) is significantly overexpressed in BLBCs and its co-expression with EGFR is strongly related with histological grade (21). About 50% of BLBCs shows the overexpression of matrix metalloproteinase-9 (MMP-9) and CD147 also correlated with poor prognosis and aggressive clinical course (22).
Caveolin 1 (CAV1) overexpression is associated with basal-like phenotype in both hereditary and sporadic BC. It is a marker of poorly differentiated BLBCs with poor prognosis (23).
Other emergent immunohistochemical biomarkers are represented by Mucin 1 (MUC1), a protein able to induce a specific immune response expressed in in 94% of BLBCs (24) and calretinin an intracellular, vitamin D-dependent calcium-binding protein, expressed in about 50% of BLBC especially in CK5/6 and EGFR-positive lesions and related with a very poor clinical outcome (25). Different cell surface molecules are overexpressed in BLBCs including nerve growth factor receptor (NGFR), CD44, CD280, c-Met and CD146, CD109 and placental cadherin (P-cadherin) (26). Several Extracellular Matrix (ECM) proteins are also aberrantly expressed in BLBCs, such as osteonectin and osteopontin (27). In particular, osteopontin has been found to be significantly higher in BLBCs and correlates with poor prognostic factors (28). Other ECM glycoproteins involved in cell adhesion mechanisms, such as laminins, are associated with the basal-like phenotype. In particular, the β4 integrin subunit is preferentially expressed in BLBC compared to non-basal-like cancer (29).
Finally, epithelial-mesenchymal transition (EMT) seems to play a key role in BLBC progression. Several EMT markers show a different expression in this tumor type: N-cadherin and vimentin are frequently overexpressed while E-cadherin is often lost (30).
---
Main molecular alterations
BLBCs are characterized by homogeneous molecular profile compared to all TNBCs. The most important molecular alteration is the heritable BRCA1 mutation. However, the most of BLBCs have a normal nuclear expression of BRCA1 (31), suggesting that the contribute of other genetic or epigenetic alterations in BRCA1-associated proteins might underlie the BRCA1 dysfunction phenotype of BLBC (32,33).
TP53 mutations have a high frequency (44–82%) in BLBC, which is responsible for the consequent interference with DNA repair mechanisms and apoptosis, consistently increasing the genetic instability (2,34,35). The loss of one TP53 allele in BRCA1 deleted animal model strongly promotes BC carcinogenesis, suggesting that p53 mutation synergistically act with BRCA1 defects during tumor evolution of BLBC (36).
EGFR is expressed in 39–54% of BLBC in which it promotes cell proliferation through Ras/MAPK/MAPK kinase pathway and confers resistance to apoptosis by ligand-dependent activation of the PI3-kinase/Akt/mTOR pathway (37-39). BLBC is also characterized by differential expression of cell cycle genes. RB and Cyclin D1 genes have a low expression whilst E2F3 and Cyclin E genes are abundantly expressed (40). In particular, Cyclin E1 is overexpressed in BLBC than other molecular subtypes of BC, and its expression is strongly associated with poor prognosis (41-43). Another common molecular alteration in BLBC is represented by the inactivation of the tumor suppressor gene PTEN able to lead the anomalous activation of the PI3-kinase/Akt/mTOR pathway (44-46). The loss of PTEN has been also associated with alterations in Rad51-mediated DNA double-strand break repair, able to promote genome instability in BLBC (47). Aberrant expression of molecular chaperone αB-crystallin in about 45% of BLBC leads the suppression of apoptosis by inhibiting the protease caspase-3 (48,49). Moreover, αB-crystallin expression is correlated with pre-surgery chemotherapy resistance and poor prognosis in BLBC patients (50).
Regarding the contribution of EMT in BLBC evolution, the down-regulation of E-cadherin expression is related with the activation of TGF-β, Wnt, and Notch pathways in turn implicated in the promotion of FOXC2, Twist, Slug, Snail, and LBX1 transcription factors (51-53).
In the last years, aberrant activity of several non-coding RNA molecules, both long non-coding RNAs (lncRNA) and microRNAs (miR) has been also associated with BLBC pathogenesis. The lncRNAs HOTAIRM1 and FOXCUT are overexpressed in BLBC than in non-basal BC subtypes and associated with its aggressive phenotype (54,55). Moreover, the knockdown of FOXCUT in BLBC cell models is able to inhibit cell migration and proliferation (55). The lncRNA HOTAIR is overexpressed in the basal-like MCF-7-TNR cells, and its binding with enhancer of zeste homolog 2 (EZH2) form a molecular complex involved in the maintenance of the basal-like phenotype. HOTAIR is also aberrantly expressed in MDA-MB-157 cells in which it modulates the expression of basal-like genes and control cell proliferation (56).
The role of microRNAs in BC has been widely documented, both as diagnostic and prognostic markers and as circulating markers (57,58). A large number of miRNA are differentially expressed between luminal and BLBCs such as mir-17, 17*, 18a, 19a/b, 20a and 106a (59,60). This expression is influenced by DNA copy number (60) and is able to promote tumor progression by reducing PTEN expression (61), by inducing cell migration and metastasis (62), and by inhibiting tumor suppressor genes ZBTB4 (63) and Rb (64). Loss of mir-375 and let-7a is involved in EMT in BLBC cells (65). Lastly, long non-coding RNAs have been shown to play a role in drug resistance in BC and are now widely studied in therapeutic monitoring, being easily identifiable also as circulating markers (66).
---
Conclusions
BLBCs represent a distinctive BC molecular subtype characterized by the expression of basal epithelial genes. They have an aggressive clinical behavior characterized by early relapse and worse survival. Microscopic findings suggest there are many significant morphological differences between basal-like and non-basal-like breast carcinomas and several new markers can be included in the immunohistochemical panel for distinguishing BLBCs. Moreover, many molecular abnormalities have been associated with BLBCs pathogenesis and progression, including BRCA1 dysfunction, p53 mutations, up-regulation of EGFR and TGF-β, inactivation of PTEN and the aberrant expression of many lncRNAs and miRNAs. These last could represent new specific markers useful both in the BLBC diagnosis and prognosis.
---
Acknowledgments
This study was supported by the Italian Ministry of Healths.
---
Footnote
Conflicts of Interest: The authors have no conflicts of interest to declare.
Ethical Statement: The authors are accountable for all aspects of the work in ensuring that questions related to the accuracy or integrity of any part of the work are appropriately investigated and resolved.
---
References
Cite this article as: Botti G, Cantile M, Collina F, Cerrone M, Sarno S, Anniciello A, Di Bonito M. Morphological and pathological features of basal-like breast cancer. Transl Cancer Res 2019;8(Suppl 5):S503-S509. doi: 10.21037/tcr.2019.06.50