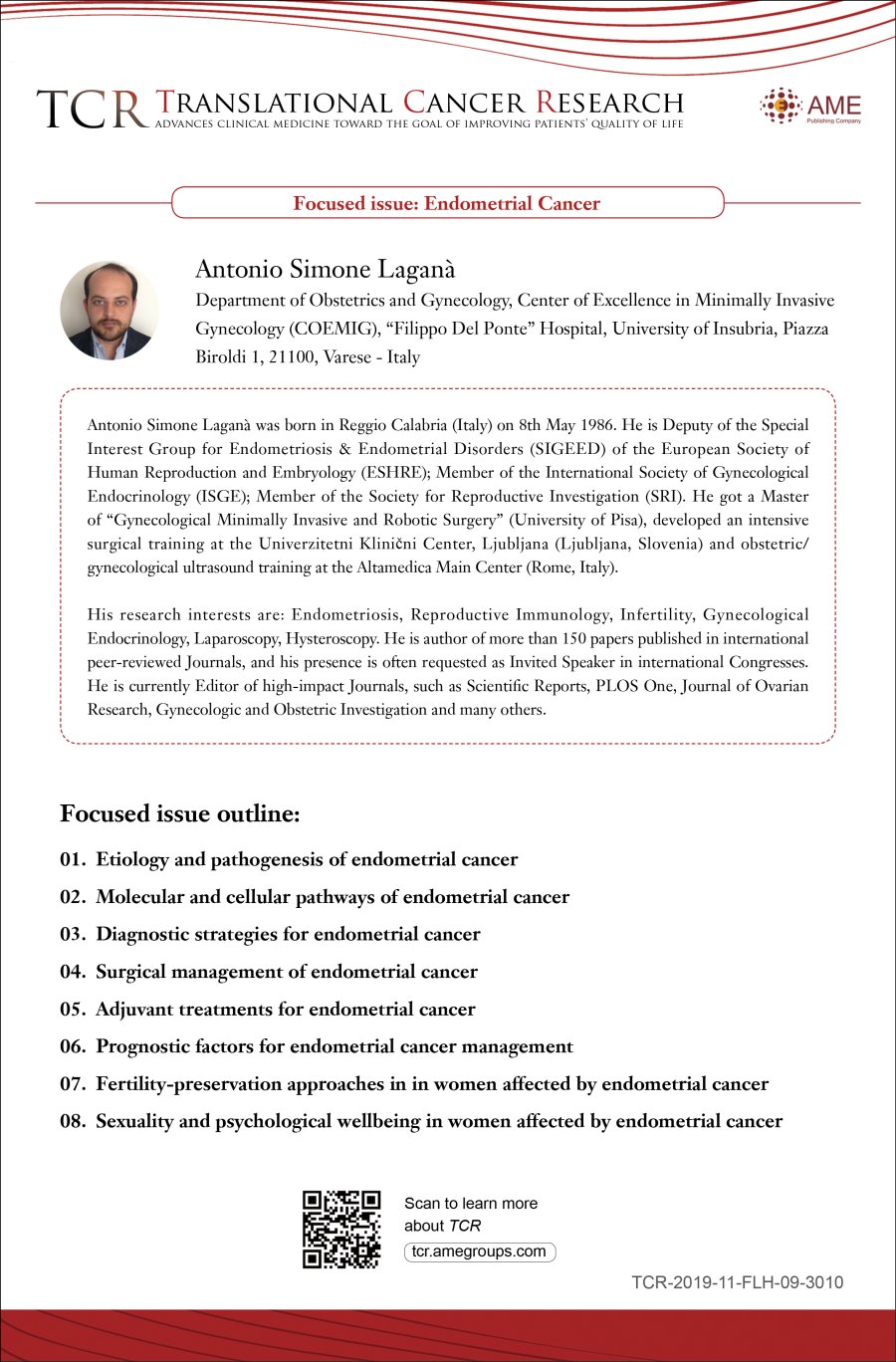 This focused issue on Endometrial Cancer is edited by Dr. Antonio Simone Laganà.
Antonio Simone Laganà
Department of Obstetrics and Gynecology,
Center of Excellence in Minimally Invasive Gynecology (COEMIG),
"Filippo Del Ponte" Hospital, University of Insubria,
Piazza Biroldi 1, 21100, Varese - Italy
Antonio Simone Laganà was born in Reggio Calabria (Italy) on 8th May 1986. He is Deputy of the Special Interest Group for Endometriosis & Endometrial Disorders (SIGEED) of the European Society of Human Reproduction and Embryology (ESHRE); Member of the International Society of Gynecological Endocrinology (ISGE); Member of the Society for Reproductive Investigation (SRI). He got a Master of "Gynecological Minimally Invasive and Robotic Surgery" (University of Pisa), developed an intensive surgical training at the Univerzitetni Klinični Center, Ljubljana (Ljubljana, Slovenia) and obstetric/gynecological ultrasound training at the Altamedica Main Center (Rome, Italy).
His research interests are: Endometriosis, Reproductive Immunology, Infertility, Gynecological Endocrinology, Laparoscopy, Hysteroscopy. He is author of more than 150 papers published in international peer-reviewed Journals, and his presence is often requested as Invited Speaker in international Congresses. He is currently Editor of high-impact Journals, such as Scientific Reports, PLOS One, Journal of Ovarian Research, Gynecologic and Obstetric Investigation and many others.
Focused issue outline:
Etiology and pathogenesis of endometrial cancer
Molecular and cellular pathways of endometrial cancer
Diagnostic strategies for endometrial cancer
Surgical management of endometrial cancer
Adjuvant treatments for endometrial cancer
Prognostic factors for endometrial cancer management
Fertility-preservation approaches in women affected by endometrial cancer
Sexuality and psychological wellbeing in women affected by endometrial cancer
Disclosure:
The focused issue "Endometrial Cancer" was commissioned by the editorial office, Translational Cancer Research without any sponsorship or funding. Antonio Simone Laganà is serving as the unpaid Guest Editor for the focused issue.